"Your driveway or parking lot is the First Impression"
Asphalt requires maintenance! Protect your Asphalt investment!
Sealcoating is important to preserve your driveway or parking lot from the elements. Sealcoating will also beautify your home and freshen up your business. Add in new line striping and your parking lot will pop and attract new business.
Avoid costly asphalt replacements and save your driveway or parking lot. Asphalt requires sealing to prevent damaging water intrusion. Hot pour rubber crack sealing prevents normal asphalt cracks from turning into potholes. When potholes do turn up, they require professional patching. We can save your driveway or parking lot when others can't. A lot of new technology has emerged and can save you thousands. Keep in mind some drives just can't be saved. Let us help you and recommend whats right for your home or business.
We are a Veteran and family owned local business. We are honest and trustworthy. You can rest assured with First Impression that you will have that home town feel and corporation professionalism. We always do

FREE ESTIMATES

or will answer any questions at no charge.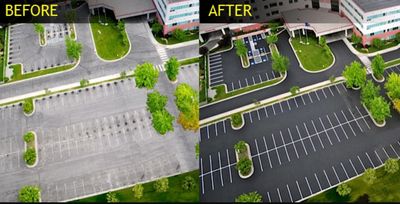 Before and after to show how freshly sealed and striped parking lot can be a more inviting business.